Deer Stalking Syndicate and Deer Stalking Club – Now with a Wild Boar area in the Forest of Dean!
£900.00
Now increased from 8 to 21 shooting areas throughout the UK. 8 more stalkers required for a much increased stalking area!
To avoid paying VAT and pay only £750 please pay directly into Stalking Syndicate account below
For alternate payment Please make Cheques out to Deer Stalking Syndicate/Club and send to A1decoy.
Account Name: Deer Stalking Syndicate/Club
Branch: KEYNSHAM Branch TSB Bank
Sort Code:77-73-11
Account:00021766
If you choose this payment option please let us know after sending the money.
3 in stock
Description
Deer Stalking Syndicate and Deer Stalking Club – Now with Wild Boar areas in the Forest of Dean!
We offer a Deer Stalking Syndicate and Deer Stalking Club in the United Kingdom with a recent increase from 8 to 56 areas. Due to this increase, more stalkers are required to manage the deer for the owners of the farms and woodlands. Permission for all calibre of rifles up to and including 375, therefore providing a reason to acquire firearms up to this calibre. Membership is for 1 year from your joining date. Once you join the Syndicate now 8 Farms you get automatic membership of the club which offers subsidised Stalking.
This is a new concept and a great way of introducing new shooters to Stalking as well as giving experienced Stalkers access to  new and exciting ground and deer species.
Deer Stalking Syndicate and Deer Stalking Club Specifications:
This is not a sporting agency as it subsidises your stalking. This is a club that has been formed to help those who are both new to stalking and experienced. The club will guide new stalkers by offering assisted stalks to begin with, and once confident, it encourages solo stalking. The large variety of areas and access to all six species is available to both novice and experienced stalkers. The experienced stalkers has access to a massive acreage and all 6 deer species as well as Wild Boar in a wide variety of areas round the country.
For example:  new areas 10,000 acres in Yorkshire and 43000 acres in Wiltshire as well as a great area in Dunstable for Chinese Water Deer and Muntjac .We are adding areas and expertise all the time. Our aim is to get ground within easy reach of all areas in the UK .
Deer Stalking Syndicate
Our syndicate is based across 3 adjoining farms in Dorset where there are Roe and occasional Sika  and 1 other only 10 minutes away. As well as 2 Areas in Devon where both Red Deer and Roe Deer can be found. 2 New Farms near Rugby have just been added 350 and 400 acres. ( We hope to add 2 more farms in this area shortly.)Where Muntjack and Roe and Fallow are present . They are all on direct lease. Each location offers solo stalking, with no charge. You will be given a comprehensive map of the grounds, and all venison can be kept. Unaccompanied stalking for experienced stalkers is available in South West Scotland at Galloway and West Sussex Large Estate near Bury (High Seat). When you get to know the stalkers or gillies in other club areas, and they trust you, you will be able to stalk alone.
Deer Stalking Syndicate and Deer Stalking Club Photos, Reviews + More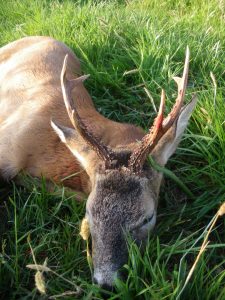 Deer Stalking Farm – Dorset near Sherborne at Bagber
Easy "Book & Go" system
High quality Roe on site
No fees
Solo stalking from supplied map
300 acres available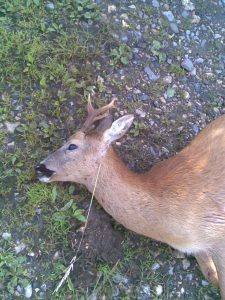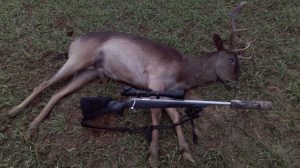 Deer Stalking Farm – Dorset Sturminster Newton at Hinton St Mary's
300 acres of good, quality ground including a water meadow which is very popular with Roe.
Book and go direct lease – tower hide and high seat in place.
Book with farmer and HQ.
There is rough shooting allowed in season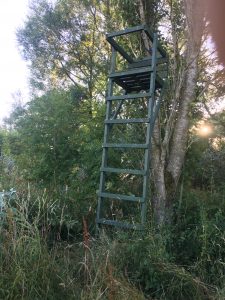 Deer Stalking Farm – Moorside, Sturminster Newton
There are four high seats across the 250 acres with a 40-acre block across the local road.
There is also a small wood on adjoining farm which always holds Roe, and is often popular with Sika.
The high seats are in fixed points for shooting in safe zones.
Solo stalking and no costs.
Once booked on, you are supplied a detailed map of shooting grounds.
Keep the venison you shoot.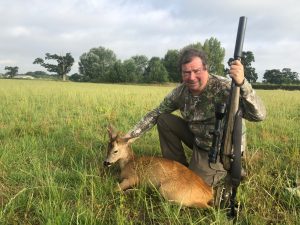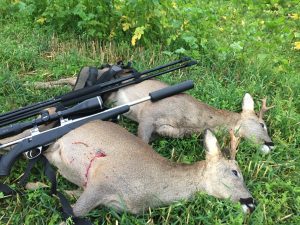 Deer Stalking Farm – Marnhull, Dorset
110 acres of wet meadows and grassland hedges, small copses and some woodland a small river runs at edge of property.
There are Sika and Roe deer present.
The map must be studied carefully – there are 4 high seats so familiarise yourself with their location as there are some no shoot zones.
There is a Carp Lake so there is no shooting in that direction, however, the high seat enables safe shooting away from the Carp lake. This does not affect the deer in anyway.
Venison belongs to you at no cost. But please ensure clean up takes place if you Graloch on site.
Direct leased stalk and rough shoot. Solo stalking.
Deer Stalking Farm – Hinton St Mary, Dorset
175 acres
Situated between 2 woodlands being a typical pathway for deer making it an ideal location for shooting (treeline ditches are a haven for Roe!).
Sika also available.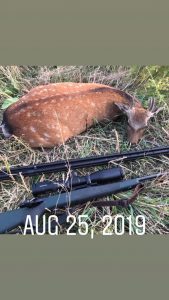 Devon North and South of Tiverton.
We have just taken on 2 new areas consisting of 5 Blocks for Red and Roe deer. Again this is free stalking and High seats , 5 up so far on Direct lease so you will have a map and will be able to shoot on your own and keep the carcasses free of Charge.
Two New Farms Near Rugby And Daventry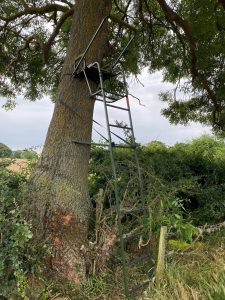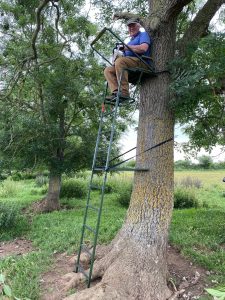 We have just acquired 2 new Farms near Rugby with easy access from the M1 and M40  one is approx 350 acres and the other 400 Acres. Both have sheep on them but have a good Chunk of arable acreage as well with good field Margins. There is plenty of woodland in the Area.  With plenty of spinnies  and Deer cover.
Deer Stalking Club
Our deer stalking club gives you access to the below locations, the syndicate farm and special offers on all the below sites. When you join the syndicate, you are given full access to the Deer Stalking Club locations. You can claim back up to £500 maximum of your £750 membership. Our Deer Stalking Club wants to encourage our members to go stalking, so contributes towards your stalking fees.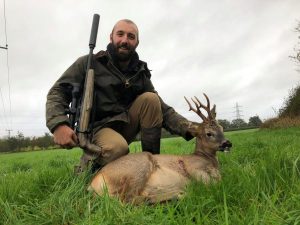 Large Estate in the West Sussex near Bury with Deer Park
An extensive and well renowned estate offering members solo stalking on high seat and guided stalking for beginners and those less experienced.
Outing = £120 (+VAT) August to November.
You can claim the net cost back from HQ, and you only pay the 20% VAT (£24).
½ carcass given for every outing.
From November, we will cover 50% of cull animal costs (£100/outing, max of 2 animals). To include, but not guaranteed the first animal. These include: Fallow cull bucks, Roe cull bucks and Muntjac Buck or Doe. Subsequent Does £50.
Self-isolating accommodation is available for £80 per night, breakfast and evening meal available by arrangement. This can be shared by those in the same household, or those in support bubbles if you provide a sleeping bag (shepherds hut).
The estate will also give you ½ a carcass on each visit.
It is etiquette to always tip the guide at the end of your trip.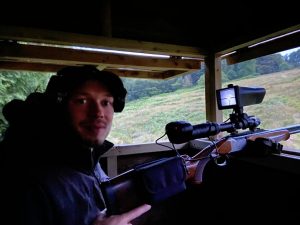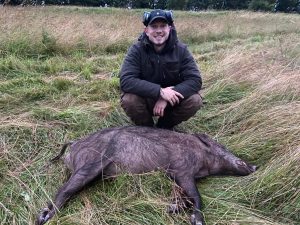 Wild Boar Shooting in the Forest of Dean AREA 1
£200 per standard outing (1 boar, 3-4 hours after dark)
The club refund's you £100 for a maximum of 2 outings.
£300 for an extended outing until dawn (club will refund £120)
An estate rifle with night vision can be used free of charge
Carcass can be purchased if required.
Wild Boar Shooting in the Forest of Dean AREA 2 
£150 per outing (no limit on boar, can sit all night if you want)
The club refund's you £90 for a maximum of 2 outings
An estate rifle with night vision can be used free of charge
Carcass can be purchased at Game Dealer rates.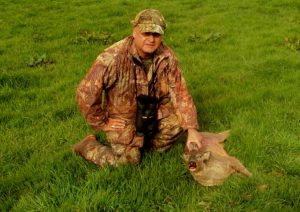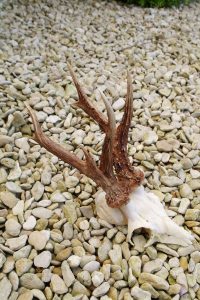 Deer Stalking – Dumfries and Galloway (Now 5  new areas from February 2021)
You will be with an experienced stalker with access to all 6 species in Scotland, England and Wales.
Days will be on a 1-1 or 2-1 basis which will help improve the quality of training for beginners, and for those who feel uncomfortable in the field.
Red, Fallow and Roe stalking for cull animals in SW Scotland at a fee of £200 per person, per day including one cull animal per outing.
We also offer Stags, depending on availability each year at your cost.
The club will refund £140 per day.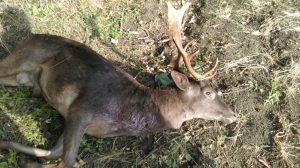 Deer Stalking – Dumfries and Galloway
Various farms (23 included) over 20,000 acres.
Dumfires and Galloway – This has to be one of the most untouched areas.
The member pays the stalking guide £100, which you can claim back from HQ.
For the venison there is a £30 fee for Roe deer, and £75 for Red.
Goose and pigeon shooting are also available in season.
Deer Stalking – Devon Multi Blocks
Highly experienced stalker's with access to a number of species (Red, Fallow, Roe and Muntjac).
1:1 is preferred, but 2:1 can be accommodated if experienced.
Novices are not a problem, as long as individuals can shoot safely.
If you have DSC1, we are able to provide training for DSC2, as my associate and I are both AW's.
Morning and afternoon stalking costs can be repaid in full. £80 an outing.
Take your ID card
Carcass is at whatever the game dealer is paying, in the skin, per lb (take enough for 65kg for a Fallow, 40kg for Roe or 25kg for Muntjac).
No trophy fees if it's a good head, it's your luck.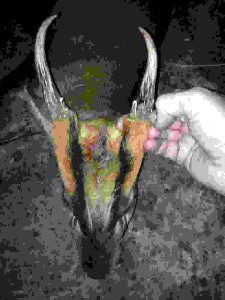 Deer Stalking – Thetford Norfolk – 4 species
2200 acres
We pay outing fee and 50% of muntjac doe or buck below 5cm
Venison and trophies are at your own cost.
Roe, Doe or Cull Buck and 4 pointers, we pay 50% of your trophy costs.
Fallow buck is at your cost.
Red Deer: we pay Hind 50% (i.e £25.00) and a cull Stag £80 we pay (£40 refund), any trophies are your responsibility, a trophy varies from £150-£850.00
Other species CWD – We only pay your outing fees. You are responsible for any shot animal!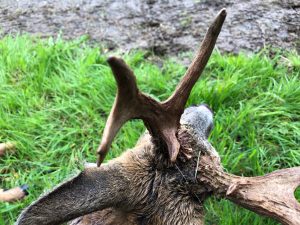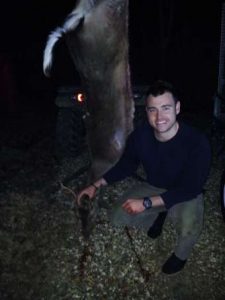 Deer Stalking – Kent-Tunbridge Wells
The guide provides a stalking service where Fallow deer are culled.
We will arrange for the member to contact the stalker and make their own arrangement while refunding the member £120.00 on each outing
Venison is at the cost of the stalker at game dealer rates.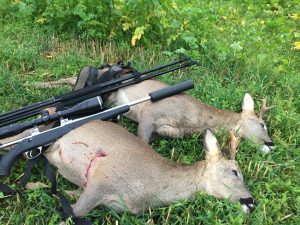 Deer Stalking – West Country Deer Wiltshire Somerset Dorset
Another great addition to the syndicate offering extensive grounds in and around the West Country.
Covers Wiltshire, Somerset, Dorset and more.
It is an accompanied, training or on own in high seat opportunity.
The club will cover daily outing fees.
Species available: Roe Buck, Muntjac, Chinese Water Deer Buck, Sika Stag
Cull stag £180 and ask about fees for points.
Fallow cull buck £154 trophies please ask stalker.
Winter culling fees for Roe, Fallow and Muntjac with own rifle £200 per day.
Club will cover 75% and there are no other charges unless carcass is required and sold at current game dealer rate.
No limit on numbers shot, within reason.
Book direct and contact HQ informing them of booking and we need to have photos and a refund form completed then we can refund any outing fees.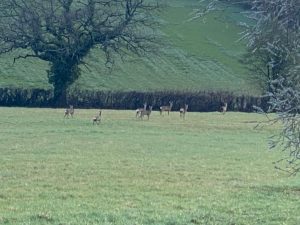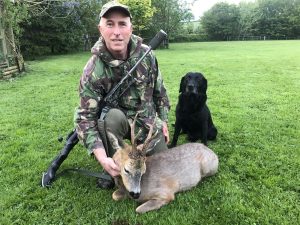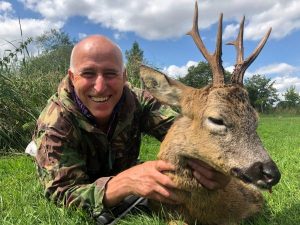 Deer Stalking – Somerset 
1,000 acres of land.
Roe deer available.
Deer Stalking – North Herefordshire Near Hereford Town
Muntjac & Fallow Buck stalking with stalker in North Herefordshire
A fantastic stalking area, great ground, horseshoe river area with fantastic woodlands.
£50 per stalk – morning and evening stalking = £100.00. (club pays all stalking fees on claim form).
£100 per muntjac – 50% of cost claim back from club.
£100-£200 Fallow buck – 50% claim back from club.
£20.00 muntjac carcass – own cost.
£1 per lb for Fallow buck Carcass -£50 contribution from club.
Single or double guns are welcomed.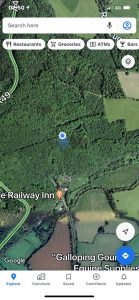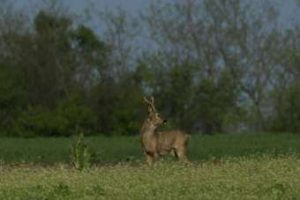 Deer Stalking– Herefordshire , extra land added Shropshire and Powys

Yeld Hill Marsden near Kington, Herefordshire
4000 Acres
Deer stalking only
Claim back stalking fees £100 prepay and carcass free . Muntjac, Roe and Fallow.Bucks £100 to £400 ,Does free.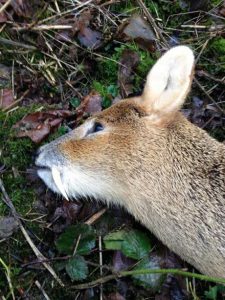 Deer Stalking Area – Chippenham Cambridgeshire
12,000 various acreage over two areas.
Deer stalking only
We pay outing fee (£60/outing) and 50% of muntjac doe or buck below 5cm
Venison and any trophies are your own cost.
Roe Deer, doe or cull buck, plus 4 pointer we pay 50% trophies your cost – Fallow buck is at your cost.
Deer Stalking Training – Chippenham Cambridgeshire
Various Deer stalking training courses
Both classroom and practical including butchery and carcass preparation at our purpose built training facility
The club will pay £50 per day for any courses attended up to 3 days maximum
There is a 200 meter woodland range available for hire, at £15/hour, or £45/half day, instruction is at a cost of £25/hour, the club will cover 2 hours of this course for the stalker. We want to encourage you to improve!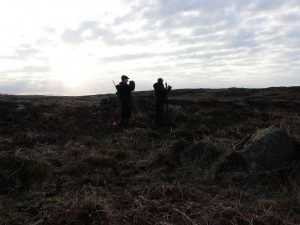 Deer Stalking – Gloucestershire 
7500 acres over 2 areas
Deer stalking only.
Roe, Muntjac and Fallow
£70 per outing (club pays back 75% stalk fees on claim form)
£50 cull roe buck
£80-£150 mature four pointer
£150-£250 mature, non-medal, six pointer
Fallow £120 (75% can be claimed back from HQ)
Muntjac £40 a doe including carcass (75% claimed back), Buck = £50 non medal, £100 bronze, £200 silver and £300 gold. Carcass available for £20.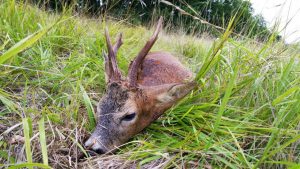 Deer Stalking or Rough Shooting Area – Isle-of-Sky Scotland
Eilean Larmain is by the Isle-of Ornsay and Isle-of-Sky. On the A851 (9 miles south of Broadford)
22,0000 acres
50% cost to members
£220 plus vat a stag and £120 a hind plus vat including outing fee.
We have rough shoot and a walked up shoot available at £110 per gun subsidised by club. (minimum 4 persons)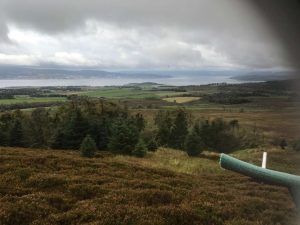 Deer Stalking – Loch Lomond
At Alexandria near Loch Lomond there are 6 high seat areas in strategic places.
The scenery is stunning over the Clyde Estuary towards Greenock.
350 acres of lovely Roe ground.
Bothy with wood burner and experienced guide and quad bike for easy extraction.
Stalking fee £120 cash (you claim it back ) a cull animal is £75.00 and it is yours to do as you please.
Bronze £125, Silver £175.00 Gold £225.00 are between you and the guide.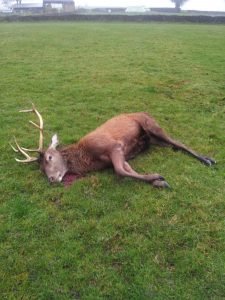 Deer Stalking – Norfolk 
£160/day including 1 muntjac or 1 roe. The cost is 100% covered by the club.
September 2020 – April 2021
Roe available near Fakenham between April 2020 – October 2020.
Roe costs: first included, second animal – four pointer is £60 (20% covered by the club £12) six pointer is £100 (20% covered by the club £20).
New and untouched ground, plenty of bucks!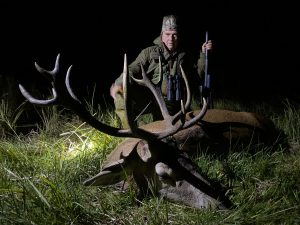 Deer Stalking – Norfolk at Roxham
Superb stalking ground with large variety of deer species, £80 for a single morning or evening. 100% claim back from the club.
£140 morning and evening stalk (100% claim back).
Roe Deer – Doe £45 (80% claim back). Bucks £100 (50% claim back).
Fallow Deer – Doe £70 (50% claim back). Pricket £75 (50% claim back). Sorrel £90 (50% claim back)
Red Deer – Spiker £120 (30% claim back)
Muntjac Deer – Doe £40 (85% claim back). Buck 7cm £140 (40% claim back). Buck greater than 7cm £180 (45% claim back)
Chinese Water Deer – Doe £200 (25% claim back). Buck below medal class £220 (25% claim back).
Agree medal class with stalker.
Carcasses can be purchased at game dealer rates.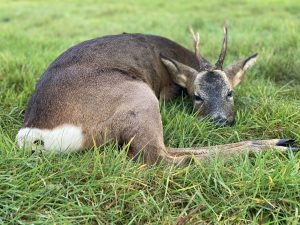 Roe Deer Stalking over 13 farms – Yorkshire
£65 outing fee
10,000 acres
13 farms
£65 per doe
Single or double guns welcome
Available with stalker assistance
Fallow Deer Grantham Leicestershire
Accompanied stalk across acres of mixed terrain
£125 per stalk (club will pay 50%)
£100 cull animal (club will pay 50% towards 1 cull animal)
£250 Palminated animal (club will pay 20% towards 1 animal)
single or double guns are welcome
Deer Stalking at Bedfordshire at Dunstable
Chinese Water Deer, Muntjac & Fallow stalking with local experienced stalker
Nice ground, main focus is on Chinese Water Deer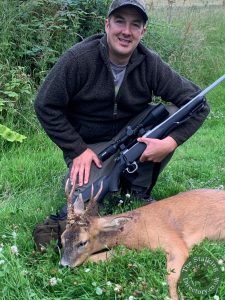 Deer Stalking Somerset Roe & Fallow Deer
Hunting will vary between locations and can be a mixture of high seats and hunting on foot, so something for everyone. The is an ideal opportunity for novice hunters to gain experience of more proficient deer stalking and Gralloching. All stalking is accompanied by a guide.
Daily stalking fee is £200- The syndicate will pay £100 a visit. This includes 1 doe culled
Extra animals may be taken but will be charged for
Roe Doe – £50.00 – club will pay £25 towards animal.
Fallow Doe – £70.00 – club will pay £35 towards animal.
Fallow Pricket – £120.00 – club will pay £45 towards animal
Fallow Sorel – £150.00 – club will pay £50 towards animal
Fallow Sore – £250.00 – club will bay £65 towards animal
Current 2021 Syndicate
Subsidized Deer Stalk in Somerset near Frome
This is a 750 acre. Block of ground and the stalker will be looking after
you, it will be a mix of high seats (17 odd) and on foot stalking around the
grounds. Roe and Muntjac.
£75.00 outing – we will pay 100%
£100 per cull Roe buck – we will pay 80%
Any trophies we will contribute £80.00
Muntjac Cull Buck – £65 we will pay 100%
Muntjac Trophy – £100-120 depending on animal we will pay 50%
Roe Doe – £65 – 100%
Muntjac Doe – £50 – 100%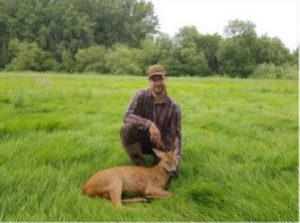 Maximum claim back from the club is £500 from the £750 of your membership. Membership reduces by £50 per year as a loyalty bonus. To a minimum of £600.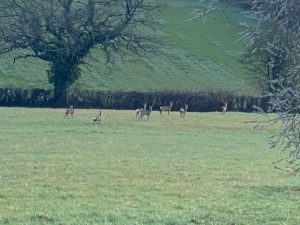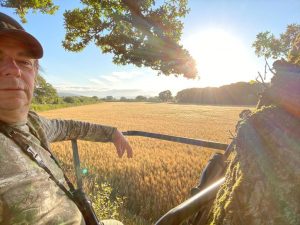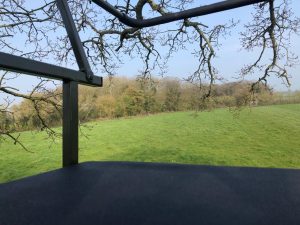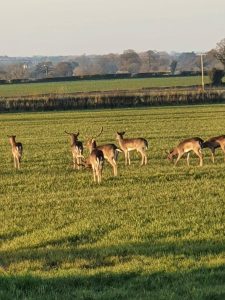 To see more of our wide range of Shooting Trips please click here
To see our wide range of YouTube Videos please view our channel here
Additional information
| | |
| --- | --- |
| Weight | 1 g |
| Dimensions | 1 × 1 × 1 mm |